Cane Harvester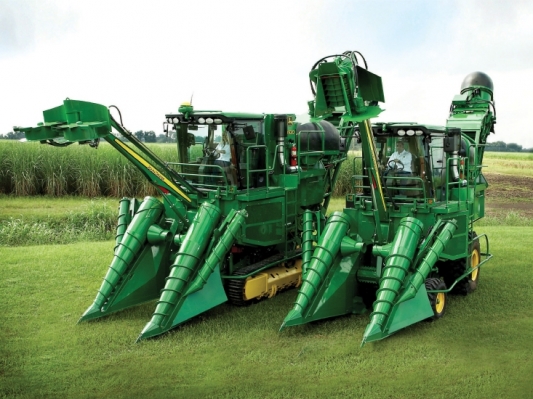 ---
John Deere Cane Harvesters
are the best-selling harvesters globally. No other chopper harvester can match their performance, reliability, comfort, options, and ease of use. A deep customer understanding has guided us into reengineering the well-known 3520 to deliver an even more distinctive John Deere experience. The all-new CH570 Harvester, with its outstanding comfort and innovative cane handling system, will provide better returns by increasing the amount and quality of cane delivered from the field during the whole life cycle of the crop at a reduced cost.
The CH570 will get through the toughest conditions and is powered by the proven 251 kW (337 hp) (280 kW [375 hp] optional) four-valve PowerTech™ 9.0L engine developed specifically for tough agricultural applications.
Features
New front end for smooth uniform feed, reducing cane losses and soil content
Harvester activity monitor (H.A.M.) will monitor harvester activities to improve operations
John Deere-exclusive floating crop divider and contour basecutter height-control technology reduces soil intake and cane loss
Optimised primary extractor puts more cane in contact with the air flow for superior trash separation
| | |
| --- | --- |
| SPECIFICATION | |
| Engine Type | Model 6068H PowerTech E, Cylinders 6 Air intake Turbo and after-cooler (air-to-air) |
| Fuel injection | inline |
| Fuel Tank Capacities | 284 L (75 gal) |
| Hydraulic oil Capacities | 227 L (60 gal) |
| Front Tires | 11 x 20 – 12 Ply rating |
| Rear Tires | 20.5 x 25 – 16 Ply rating |
Specifications are based on published information at the time of publication.Specifications are subject to change without notice.